Gujarat is very creative and productive place that produce number outstanding architecture and design firm. Each of the mentioned firms is involved in creating the best architectural projects. The firms presented here practice both locally and internationally, and represent the face of Gujarat's built industry today.
There's a chance we might have missed some firm if you feel there are more firms that need to be included in the list, do write to us.
1. Shayona Consultant | Prashant Parmar Architect: Shayona Consultant is a firm who has executed over 1000 projects with national and international experience of over 19 years in the field of Architecture and Interior. Prashant Parmar Architect established his firm in 2000. Shayona Consultant is one of the most established architectural and interior practices in Gujarat. For over 19 years we have delivered innovative design solutions for a wide range of developments through our multidisciplinary expertise in the field of Architecture and Interiors.
2. Studio17: Studio17 is a blend of dedicated talents, creative hunger & special human beings, a multidisciplinary tribe of dreamers driven by our creativity. Our Studio was found by Mayur Mangukiya and Ankit Sojitra in 2017, and ever since we are into the business cultivating spaces. Our smart concepts and rich visuals help us build innovative and impactful space experiences By Nurturing a close relationship with clients, we strive to distill the essence of their vision into instantly memorable creations. All projects that come our way are considered opportunities for improving our surrounding one space at a time. We do what we love to create an impactful surrounding that inspire people and add to the quality of their world. Our core mission is to reflect the inner values of our clients in a way that not only elevates their living spaces but also establishes an emotional connection with the space.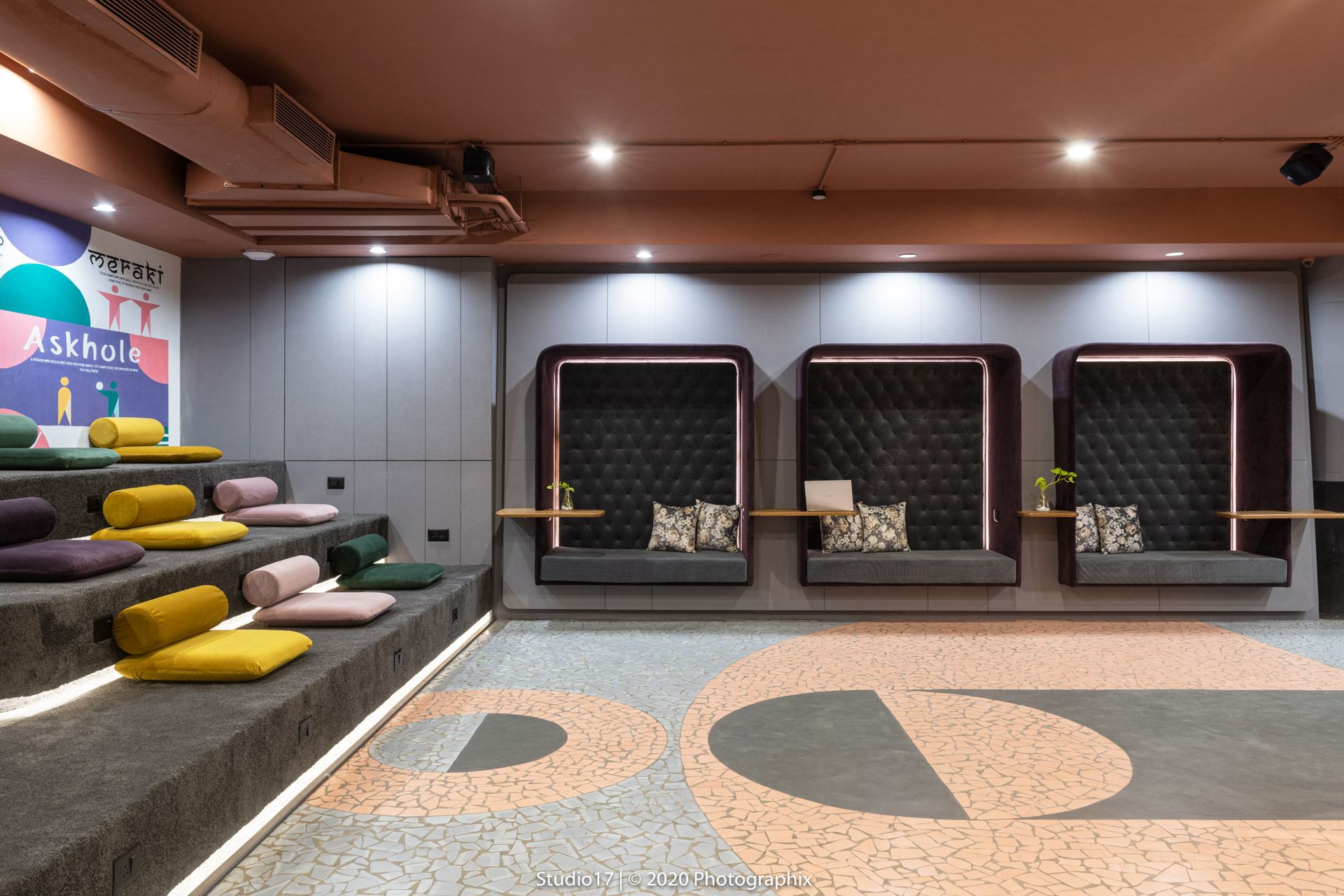 3. Karan Grover and Associates: KGA is an Indian architecture, interior design, master planning and landscape firm with 36 years of experience. KGA designs buildings and spaces that are deeply rooted in the rich Indian tradition. The studio responds to the need of the people and the environment.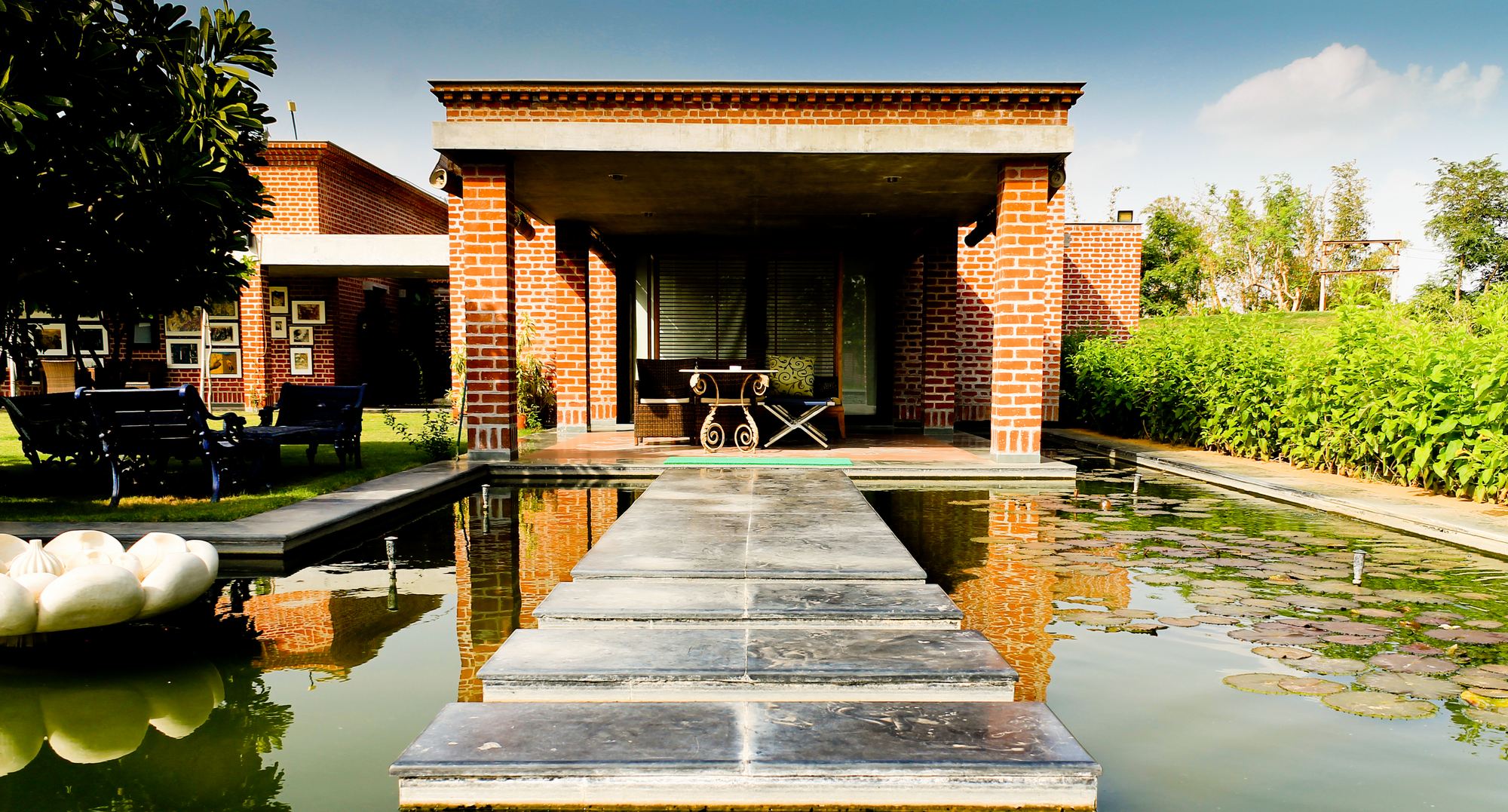 4. VH DESIGNS STUDIO: VH designs studio is a multi-disciplinary design firm, headquartered in Ahmedabad, India. The accent at VH designs studio is towards client sensitive designs in terms of identity, function, cost and time. With a dedicated team of architects along with engineers, designers, artisans and related professionals. A VH design studio has consistently tried to deliver innovative and world class facilities to clients of international standing across various spectrums of design.
5. feat.collective: We believe that architectural practice always requires an understanding of social and cultural phenomena as well as confrontation of the Genius loci. A sensitive approach to an assignment can only be achieved through the holistic consideration of the on-site partner, regional particularities, and ecological and economic resources. Our different professions form a spectrum of various competencies and experiences. The diverse points of view we have due to our different backgrounds allow us to pursue alternative, transformative, and sustainable solutions.
6. Krutam Design Studio: Krutam Design Studio is Surat based design studio. Its projects include, "MAA" This private residence is located in surat, gujarat, india. A dream house of Mr. Jaybhai Jalondhara, who wanted a simple design for a medium budget scheme for the site 28' x 50'. The footprint of the house was approximately 28' x 46'. This beautiful and airy tenement perfectly reflects the personality of the client.
7. STUDIO 4000: As a mode of worldmaking, practice acknowledges a multiplicity of things & processes by participating in their creative play. Before it is a specific position on program, design language or site, we feel the work to be a gathering – an occasion where many views, energies & realities meet. For enhanced interaction, each encounter seeks openings in hardened definitions of use, appearance, etc. through dialogue & sharing of experience. In this, our practice is most inspired by the cultural & ecological conditions of south Asian contexts, manifesting in unique people-place-material relationships. We take from these relationships & attempt to give back with reimagination. Execute architectural actions with criticality & responsiveness to both – the constant as well as the emergent in them.
8. ZARNA STUDIO: We are an Architectural Firm who love to work on innovative and professional offshore/local projects. We have expertise and love to work on materials like leather, silicone, wood, concrete. We are also accomplished in advanced computational design which makes us best suited for algorithmic and parametric designs. We use progressive tools like rhino and grasshopper to produce designs. You can find the replication of many such designs under our portfolio. We believe in staying updated with current advancements in our field and thus we do not miss to attend events like evolo, dencity, Pmay affordable housing.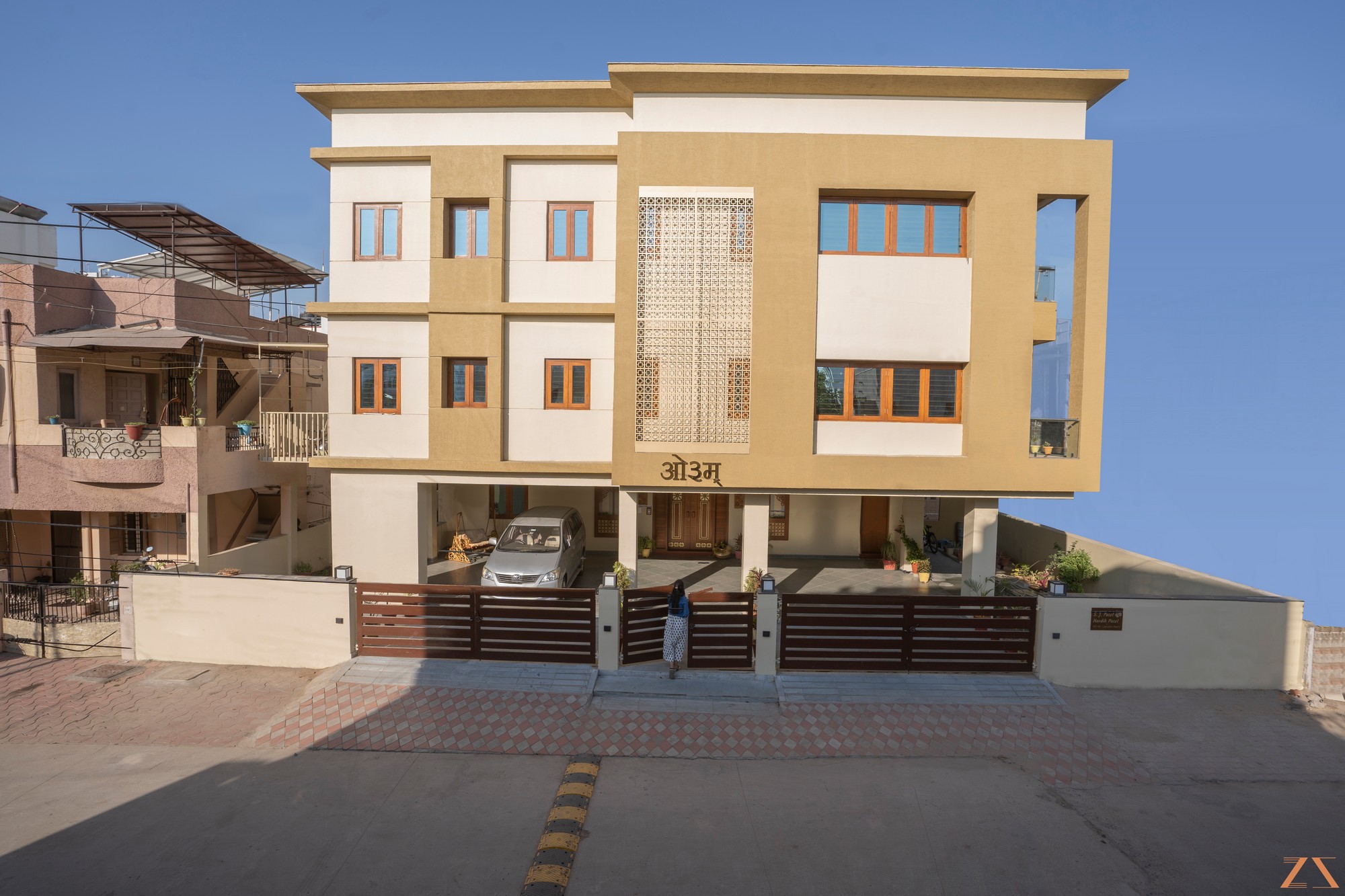 9. Architects at Work: 'Architects at Work' lead by principal architects Ar. Shweta Pandya and Ar. Krishna Patel involved in developing architectural, landscape and interior designing projects in Gujarat and other places as well since 2013. 'AW' is established to give best efforts to execute client's stated objectives live and working with awareness of urban and environmental enhancement rather putting project as individual object. The firm strives to maintain a balance between a esthetics and functionality in all its design there is a constant search of exploring and creating new designs and concluding beyond limits 'AW' is enthusiastic to offer people services related to architectural design, urban design, interior design, landscape design, and turnkey projects which include solutions related to innovations in practicality, functionality, form, planning and other aspects in services with keeping time limits in mind.
10. ARUR: The foundation of the studio is based on design competitions and collaborative works with key interest in urban place making and elemental architecture.
The Nani Daman Jetty Garden site in Daman city is a corner plot of 4000 sq.m. near St. Jerome's Fort adjacent to an existing jetty flanked by a road and St Jerome's to its east and a private property to the west. There are some 20 fully grown trees dotted throughout the site. The site had witnessed badly planned spaces, incremental and unrelated landscape elements and sculptures that over a period of time made the park unutilized and derelict.
11. Montdor Interior Pvt Ltd: Montdor interior is one of the Top Rated Interior Designer in Ahmedabad, offering design and architectural services. With a strong team of 25 experts and over 5 years of industry experience, Montdor Interior offers exceptional services with the help of allied sciences. Great ideas, well-structured plans and honest prices make Montdor Interior the first choice of customers.
12. J ARCHITECTS: J ARCHITECTS is Vadodara based design studio.
This home was conceptualised to be minimal using a neutral colour palette in a contemporary setting for a family of six – grandparents, parents and two kids. The client's brief was to renovate their home incorporating all their functional requirement to create a pleasing and aesthetic space.The idea was to offer an evergreen yet modern design using clean simple lines and smart space planning.
13. Ramkrishna Architects & Interior Designers: Ramakrishna Architects & Interior Designers is one of the best architects in Ahmedabad providing reliable and trusted consultancy services. We have a unique name among the top architectural firms in Ahmedabad. We have set a benchmark among the best industrial project consultants in Gujarat. We also excel as the leading hospitality consultants in Ahmedabad. We have thousands of clients from various industries, including construction, hospitals, hotels and more. Our specialized hands in all the fields, including hotel consultants in Ahmedabad, are devoted to what they do, and it has been our success formula.
14. Darshan Group: We, at Darshan Group, have been involved in creating and maintaining Interiors since August 1984. It gives us great pleasure …and pride, to inform you that we are the only people in the City of Ahmedabad, to offer total Interior Solutions under one roof. And that too by experts in their respective fields. Today, the Darshan Group is headed by Shailesh Desai,Darshan desai & Kajal desai.
15. Shaili Banker Architects: Shaili Banker Architects is an architectural firm based out of Ahmedabad, India. Started in 2007 it handles architectural, interior design and landscape projects.
To achieve this unique brief, skewed planes of reinforced cement concrete and glass were employed to envelope the building. One being opaque while the other transparent. Hence each of this external surfaces were strategically such that the opaque provided privacy while the transparent lead to permit natural light and ventilation.
16. Chaukhat Design Studio: Chaukhat Design Studio is a Vadodara based Design Studio.
Inspired by the elements of mid-century modern style of interior that originated in the US in twentieth century, our client, who lives there, wanted something similar for his parent's 3-bedroom apartment in Vadodara, Gujarat. So the house explores the idea of clean lines, graphic shapes, functionality, combination of natural & man-made materials, neutral tones with pop of vibrant retro colours & integration of indoor & outdoor elements.
17. The Design Crate: The Design Crate is Godhra, Gujarat, India based design studio.
The journey of this site started with redefining the old spaces by recreating them with Simple and Minimal Aesthetics. Addressing various parameters of Light, Ventilation, Openings, Safety etc. led to concept of this design.