Now that spring's finally here, with the good weather and rising temperatures, the desire to spend time outdoor and escape everyday life is growing.
Within this scenario, furniture has the power to encourage conviviality and interaction by offering functional and versatile spaces in public areas and creating little oases of comfort within the home. Terraces, verandas and gardens of our homes are always cosier and reflect our passions and habits. Cafes and restaurants are preparing to welcome customers in their carefully furnished dehors giving life to functional and versatile spaces.
Meanwhile, workspaces grow their interest towards outdoors, small gardens or terraces where to take a break during working hours.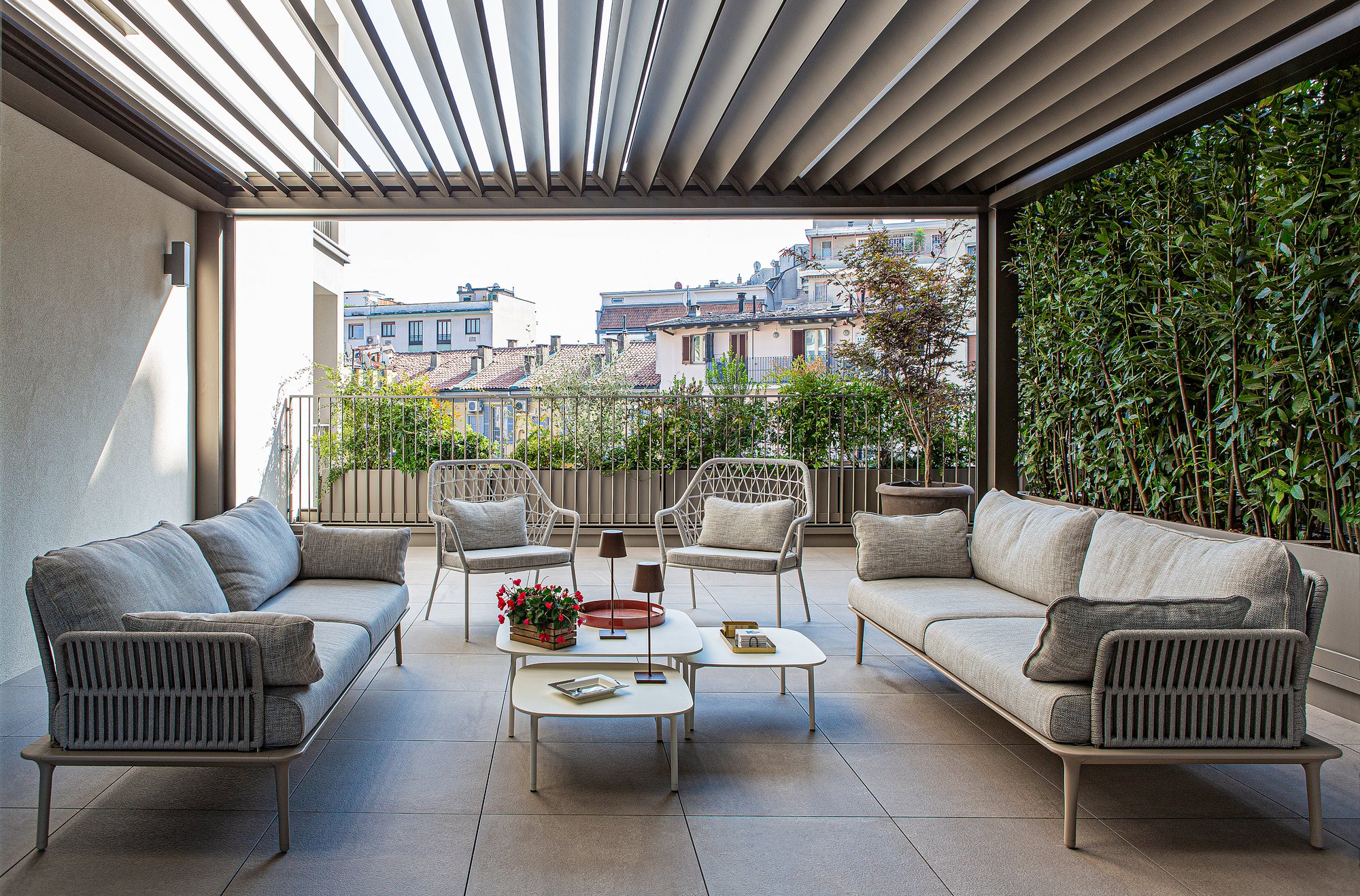 Pedrali offers outdoor collections made to guarantee the user's wellbeing. Made with high quality materials, they resist to weather conditions, as well as being durable and easy to clean. Chairs, lounge armchairs and sofas give a fresh, elegant touch to their surroundings and they are characterised by welcoming shapes and recycled materials, hand woven polypropylene cord and soft, water-repellent cushions.
These collections were selected to furnish enchanting outdoor locations all over the world, such as North Santorini – A Luxury Spa Hotel. This volcanic island, shaped by the Aegean Sea and the wild nature, boasts unique views, tastes and sensational vibes. Suites are marked by terraces with pool or hot tub furnished with Nolita chairs by CMP Design. This collection embodies the concepts of transparency and lightness, both from a visual point of view, and to facilitate movement. Completely made of steel, Nolita is designed specifically for outdoor use and recalls the origins of a historic course started by Mario Pedrali in 1963 with his first metal garden chairs.
Moving a few kilometers north, on another renowned island of Cyclades, there is the Collini Villas Mykonos. Located in Fanari, it offers luxurious accomodations with splendid sea views. A true paradise nestled in an area filled with history, art and nature, where guests can enjoy the beauty of Greek landscapes, given by its marvellous and touching glimpses, as well as the Italian lifestyle, told through the quality of the details. Inside the Collini Villas Mykonos we find "Il segreto" restaurant, where the Mediterranean cuisine is reinterpreted in a contemporary way. Here the Tribeca armchairs, designed by CMP Design, are proposed in pastel pink tones matched with Inox tables.
Tribeca takes us back in time with a modern reinterpretation of classic Sixties patio chairs made from steel and woven material. A true icon, revisited with new materials: a steel frame, combined with the elasticity of a profile in vertically-woven plastic material that is remarkably durable, easy to clean and colourful. The bar is furnished with the barstools from the same collection.
The Tribeca collection was chosen to furnish Aptitude Café, the cafeteria next to the prestigious Louvre in Abu Dhabi. Designed by Ghida Chehab, Aptitude Café is a fascinating space where you can relax while enjoying the pleasant view of the museum's dome designed by Jean Nouvel.
Tribeca was also chosen for the terrace of Lily Country Club in Kløfta, in Norway, located in a rural area just 30 minutes far from Oslo.
The Panarea armchairs, designed by CMP Design and the Reva Twist collection, by Patrick Jouin, also fit in here.
Panarea is an outdoor seating collection featuring a traditional element hand-woven in Italy as a sign of respect for and dedication to Italian craftsmanship.
The wide and curved backrest woven in polypropylene cord creates an original geometrical pattern and wraps around the tubular steel frame powder coated for outdoor use, as far as the armrests.
This use of cord emphasises Panarea's elegant appearance and optimises the weave, resulting in a double curvature that gives the seating three-dimensionality and graphic rigour, as well as making it transparent, easy to move and suitable for outdoor use.
Reva Twist elegant three-seater sofa and lounge armchair feature four tapered legs in die-cast aluminium placed at the extremities of the perimeter frame in extruded aluminium.
The steel backrest and armrests are woven with a flat rope in weather-resistant polypropylene, for a more natural appearance.
Both collections were chosen for the terrace of the Voltaire restaurant, housed in Parc Broekhuizen, a charming property in Leersum in the Netherlands. But also, for the the sea-view terrace of the enchanting Villa Fiorita Boutique Hotel in Taormina. They were chosen for private houses as well, such as the beautiful dwelling designed by LART Architetti on Iseo Lake.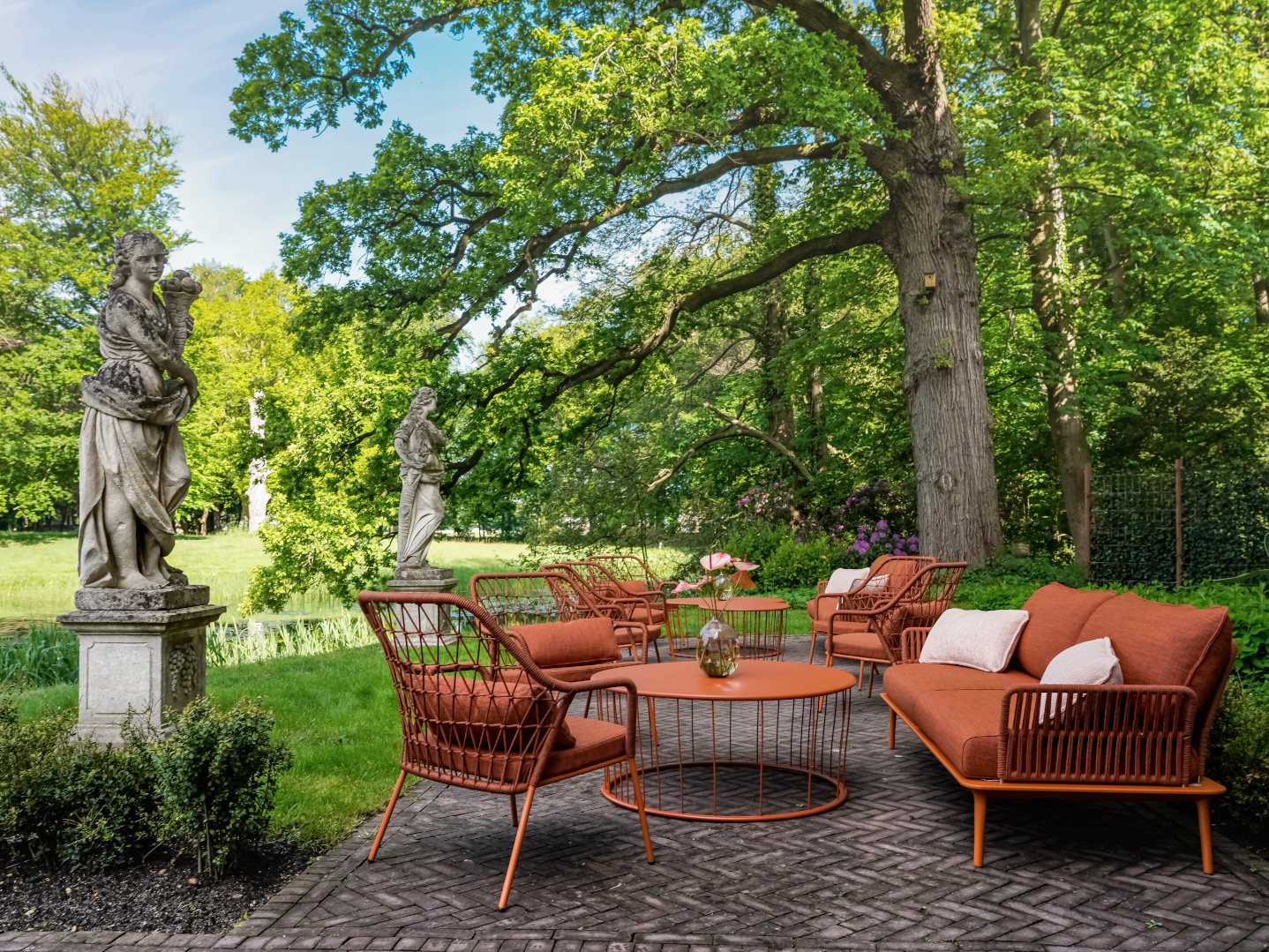 In Trani, overlooking one of the most beautiful natural harbours in Puglia, there is Dimore Marinare, the ideal place for a charming stay surrounded by the scent of the sea and the city light. Here, Panarea armchairs and Nolita armchairs and tables furnish the outdoor areas of the restaurant, with a privileged view on the monumental cathedral of Trani.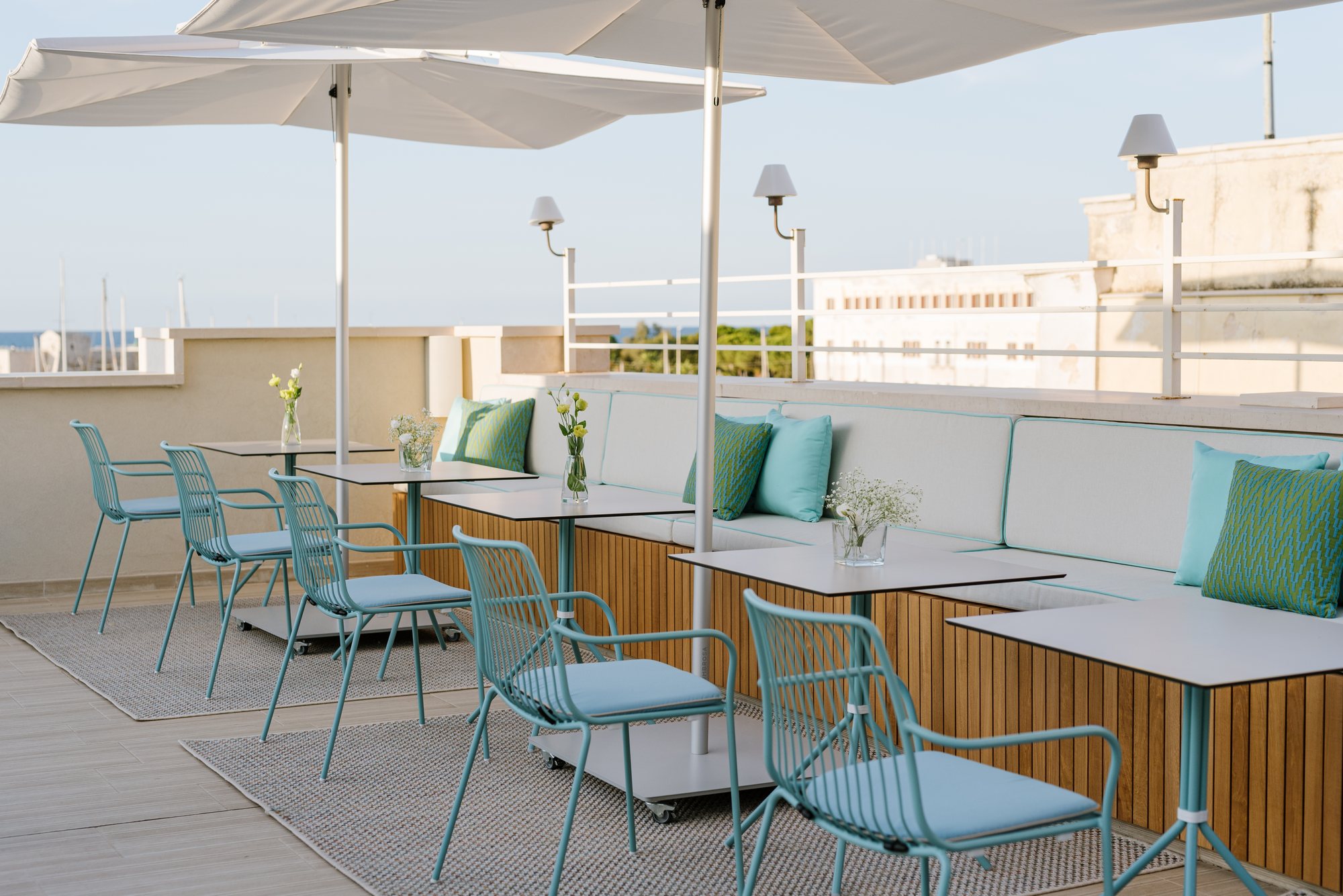 And why not have lunch in the shadow of the Tour Eiffel with a panoramic view over Parigi? The restaurant of the Musée du Quai Branly, Les Ombres, signed by Jean Nouvel, is characterised by an elegant atmosphere and a refined cuisine that harmoniously combines tastes from the five continents, drawing inspiration from the multi-ethnic traits of the museum that houses it.
Its wide terrace, envisioned as a roof garden featuring species and plants of all seasons, stars Nolita chairs and armchairs paired with Ypsilon tables. An amazing place for sharing a special moment.
Rail is a must-have piece of furniture for a relaxing summer, a sun lounger characterized by simple, modern lines. The powder coated aluminium frame has four angled legs in stainless steel featuring an oblique design. The adjustable backrest may be raised to the most comfortable position, leaving space for a handy compartment. Upholstered in water-repellent, uv-resistant fabric, the comfortable cushion padded in dry-feel foam, dries quickly. Now also available with a sun lounger roof.
Rail allows guests of Icaro Hotel in Castelrotto to regenerate while gazing out over the Alpe di Siusi.
Remind armchairs, designed by Eugeni Quitllet, furnish the terrace of the Coach House, an intimate stone cottage getaway nestled on a rugged hillside of Kangarilla property, in Hillenvale in Australia. Located among two award-winning wining and dining regions, McLaren Vale and Adelaide Hills, The Coach House is an idyllic escape.
The property's refurbishment, crafted by the interior and design studio Fabrikate, retains the sandstone cottage's 19th century charm.
Remind evoks the soft sinuous curves of wooden chairs from the late 19th Century, reinterpreted in an innovative key. Made from a monoblock of injection-moulded polypropylene, the transpiring seat and backrest contribute to the armchair's airy, lightweight appearance, as well as to its embracing comfort. This collection also comes in a special version made entirely from recycled material: 50% from plastic material post-consumer waste and 50% from plastic material industrial waste.
Also Gossip armchair, made of polypropylene with sinuous and round shapes, light weight and stackable, is available in the "recycled grey" version, made entirely from recycled plastic material.
Together with seatings, tables take centre stage in the outdoor furniture as well, enhancing an oasis of relaxation in the open air. The materials provide cutting edge quality and combine functionality with elegance. Caementum, designed by Marco Merendi and Diego Vencato, is a single-piece concrete table. Through the addition of carefully selected additives, this highly resistant material guarantees excellent technical performance, including ease of cleaning, greater resistance to mechanical stresses and weathering, and low permeability to liquids and stains.
Available in two sizes, Caementum is designed to create various compositions and can adapt to any context both in public and residential settings.
The Circuit coffee table is light and versatile. The new outdoor version features a continuous galvanized steel rod frame, which section that lays on the floor and the one that supports the top defines a soft and fluid curve.