Waterline Square–the five-acre mega-development on NYC's Upper West Side–just announced that the project will be the first residential building to feature a skate park. The indoor, multi-level half-pipe skate park (image below) is the first-ever conceived amenity of its kind of any NYC residential project.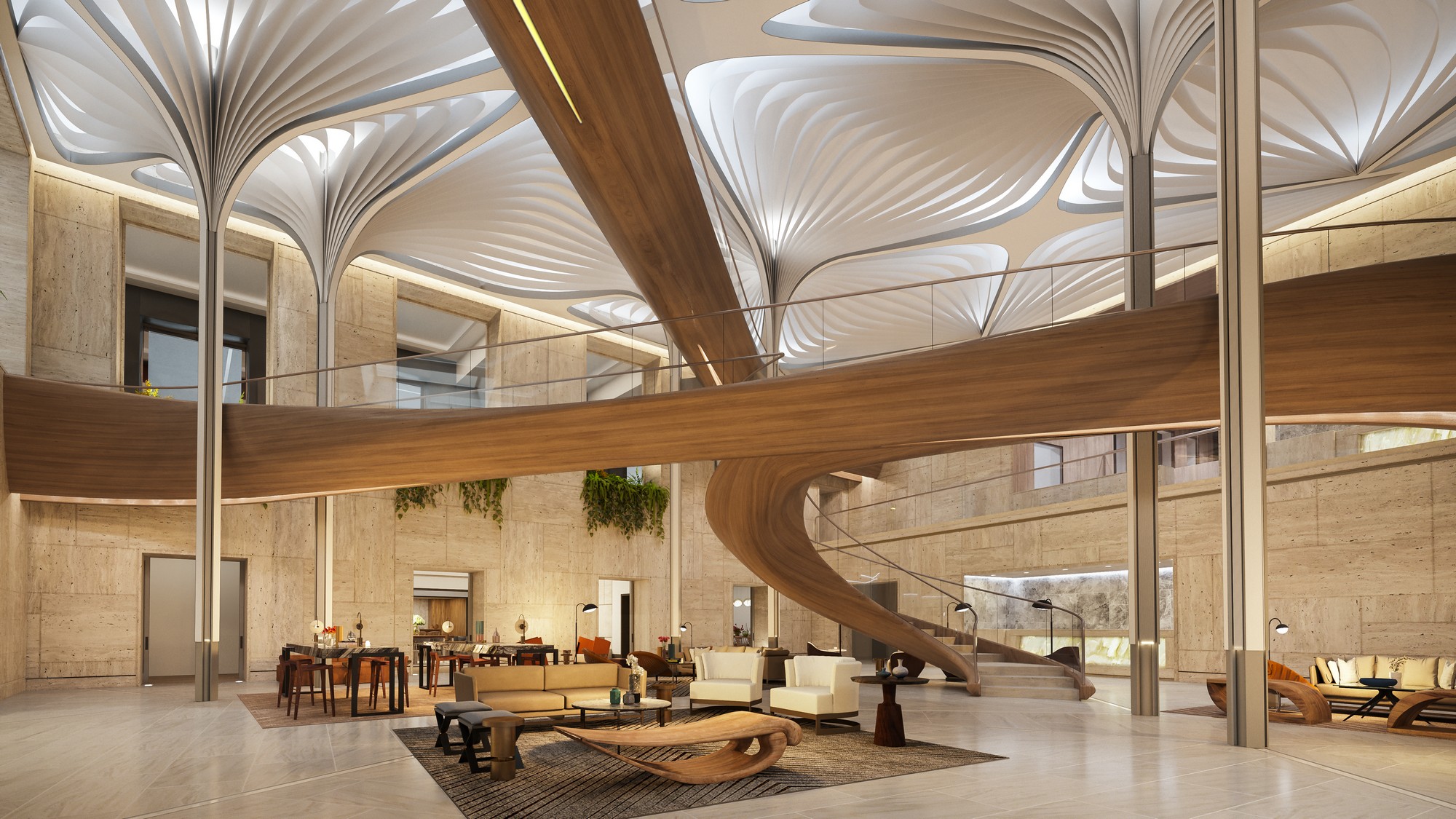 Located within The Waterline Club, which is the sprawling shared amenities space designed by the Rockwell Group that boasts over 100,000 square feet of best-in-class sports, leisure, and lifestyle offerings, the half-pipe skate park is nearly 42 feet long and 4 feet high. For the daredevils and pros looking to catch some extra air, a mini ramp is situated directly next to the half-pipe and is up to 10 feet high.
Designed by award-winning SITE Design Group, whose credits include the new skate & BMX plaza at Stars and Stripes Park near Lake Hefner and the Linda Vista Skatepark in San Diego, California, the half-pipe skate park at Waterline Square also features an open seating lounge area for socializing and relaxation to watch those skating, a sound system with DJ deck, and large screen TV with video game provisions. Skateboards and helmets will be available for use, and the space will be open year-round for all residents.
Situated along Riverside Boulevard from 59th to 61st Street, the 2.1-million-square-foot mega-development designed by Richard Meier & Partners, Rafael Viñoly Architects, and KPF represents the last remaining waterfront development site to be completed on the Upper West Side.
OVERALL PROJECT FACTS
• GID, a national real estate organization, has commissioned three worldrenowned architects – Rafael Viñoly Architects, Richard Meier & Partners Architects, and Kohn Pedersen Fox Associates – to design an iconic collection of luxury residential buildings that will complete one of the last remaining waterfront development sites on the Upper West Side of Manhattan.
• Named Waterline Square, the masterplan encompasses nearly five acres and will be located in Manhattan along the Hudson River from West 59th Street to West 61st Street, where Midtown meets the Upper West Side.
• The three buildings are One Waterline Square, which is designed by Richard Meier and Partners Architects, Two Waterline Square by Kohn Pedersen Fox Associates and Three Waterline Square by Rafael Viñoly Architects. For the first time, GID has assembled a collection of world famous architects who are not only recognized on a global scale, but are also New York City architects that truly understand how to craft an authentic and compelling New York City neighborhood and place-making experience.
• The glassy towers complement one another in their articulated facades, outdoor spaces, and faceted crowns, and collectively create a bold architectural statement set against the backdrop of the New York City skyline. All three are being constructed simultaneously, offering future residents a completed neighborhood.
• Waterline Square features 263 luxury condominium residences located among the three towers ranging from 1-5 bedrooms that start on the 20th floor and above, and provide sweeping views of the Hudson River and Manhattan skyline that stretch down to the Statue of Liberty.
• Waterline Square plays a critical role in completing the Riverside Master Plan. When it began more than two decades ago, the Riverside Master Plan was designed to transform 77 acres of waterfront land along Manhattan's Hudson River into a premier residential neighborhood. Waterline Square is a rare opportunity to complete the development of the last remaining parcels of this important waterfront masterplan.
• The name, Waterline Square, evokes the development's natural relationship to its waterfront location on the Hudson River. A major component of GID's Waterline Square site plan is to seamlessly connect parks and open spaces through a thoughtfully created axis from the city grid to the adjacent Hudson River Greenway. At the heart of the development will be a new, lush park designed to gesture to neighboring Hudson River Park, Central Park, and Riverside Park.
• GID began construction on Waterline Square in 2015 and closings are expected to begin in Spring 2019.
• Corcoran Sunshine Marketing Group is exclusively handling the sales and marketing for Waterline Square.
• Prices start at approximately $2 million and the development anticipates a 20- year tax abatement.
• The sales gallery is located at 475 West 61st Street in Manhattan.
INTERIOR DESIGN
• One Waterline Square by Richard Meier will feature interiors by international designer Champalimaud. The interiors were designed to marry the precision of Meier's exterior with great warmth. Homes showcase high ceilings, enormous windows, and a rich selection of handpicked materials from around the world.
• Two Waterline Square by KPF has luxurious interiors designed by famous boutique hotel and hospitality duo, Yabu Pushelberg. Cascading terraces are located throughout the building on various floors, and a dramatic lobby entrance punctuates the ground floor.
• Three Waterline Square by Rafael Viñoly is surrounded by green space, adorned with a faceted and angled façade, and outfitted with exquisite interiors designed by Groves & Co. Dramatic views of the park, river and city can be seen through oversized floor-to-ceiling sloping glass windows and the residences showcase indulgent materials with a fresh attitude.
SHARED AMENITIES – THE WATERLINE CLUB
Waterline Square's extraordinary amenity program is one example of the comprehensive nature of the development. With more than 100,000 square feet of best-in-class sports, leisure, and lifestyle amenities, the offering at Waterline Square will be one of the largest and most compelling in New York City.
Connecting One, Two, and Three Waterline Square is the Waterline Club — a truly extraordinary collection of indoor amenities available to all residents. Designed by David Rockwell's famed hospitality group, Rockwell Group, the Waterline Club offers thoughtfully programmed sports and fitness, swim and spa, leisure and social, creative, children and pets spaces.
Full list of The Waterline Club amenities:
• Sports & Fitness
o Sports and fitness amenities include an indoor tennis court, a squash court, 30-foot rock climbing wall, indoor half-pipe skate park, golf simulator, full-court basketball, indoor soccer field, state-of-the-art fitness center, and pilates, boxing and yoga/barre studios.
• Swim & Spa
o A 25-meter, 3-lane lap pool, separate children's pool, hot tub, steam rooms and saunas highlight the spa and swim offerings.
• Leisure & Social
o Leisure and social offerings include an enclosed catering kitchen, party room, bowling alley, games lounge, cards parlor and screening room.
• Creative
o An indoor gardening studio, art studio, music studio, music recording studio and video and photography studio featuring AV equipment and a green screen punctuate the creative spaces.
• Children
o A massive 4,600 square foot Children's Indoor Playroom designed by award-winning museum designer, Roto Group, dedicated toddler's play area and children's party room are other key attributes.
• Pets
o For furry friends, an indoor playroom, washing station and training studio are available.
PRIVATE CONDO AMENITIES
In addition to the sprawling shared amenity package, each individual building at Waterline Square will have its own selection of exquisite offerings available to condo residents. The tower amenities, designed by Champalimaud Design, Yabu Pushelberg and Groves & Co., include large great rooms with fireplaces, private dining rooms, media and game rooms, salons and billiards lounges, a spirits library, and beautifully landscaped terraces with outdoor kitchens.
Select tower amenities include:
One Waterline Square by Richard Meier, Interiors + Amenities by Champalimaud
• Private dining room
• Enclosed catering kitchen
• Media room
• Two landscaped sundecks with outdoor kitchen capabilities
• Billiards lounge with bar and access to terrace
• Great room with gas-burning fire place and access to terrace
Two Waterline Square by KPF, Interiors + Amenities by Yabu Pushelberg
• Private dining room
• Catering kitchen
• Salon with river-view balcony
• Lounge with billiards and bar
• Spirits library
• Great room with gas-burning fire place and large seating areas
• sundeck with two outdoor kitchens
Three Waterline Square by Rafael Vinoly, Interiors + Amenities by Groves & Co.
• Private dining room
• Catering kitchen
• Great room with two gas-burning fireplaces
• Salon with wet bar
• Media room with access to terrace
• Landscaped terrace
GREEN SPACE
In addition to enjoying breathtaking sunsets from residences, the three buildings will surround a new beautifully landscaped park at the heart of the development. Spanning nearly three acres, the Mathews Nielsen Landscape Architects-designed space features a stunning landscape that encompasses tree-lined groves, open grass areas, walking paths, a playground, fountains, and other water features.
RETAIL
The Cipriani family will develop 28,000 square feet of space for a large format culinary experience with multiple food and beverage establishments, featuring a market, restaurants, and fast casual outlets. Located within Two Waterline Square, the new Cipriani food hall will be designed by internationally acclaimed London-based interior designer Martin Brudnizki.