Park Associati are pleased to host in their practice's premises the solo exhibition of Thomas Berra, opening on the occasion of the beginning of the Milano Fall Design Week.
Inspired by family photographs, the artist tells the love story of Franco and Renata, his uncle and aunt. This very personal story is also a reflection of an era, the long Italian post-war period that was scarred by events that left a mark and influenced the recent past. Based on the Grand Hotel-style photo-novels, the artist created a picture tale printing it in around 1000 copies. The work is meant to be shown on a support reminiscent of the small kiosks that used to sell newspapers in those years. The artist asked Park Associati to design the newsstand on which the copies of the photo-novel are to be affixed.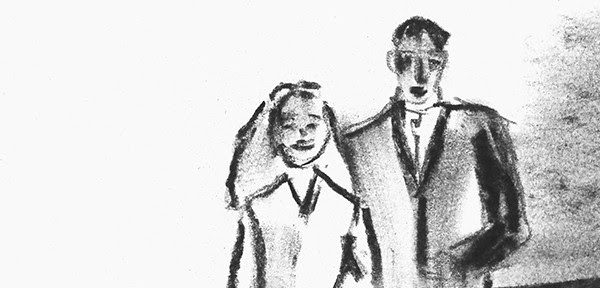 Conceived in 2017, on the occasion of the 6Artista award, won by Thomas Berra and Corinna Gosmaro, the work "Franco e Renata" was exhibited at the Pastificio Cerere Foundation in Rome, in collaboration with Schafhof – European Center for Art Upper Bavaria, and is now on show for the first time to the public in Milan.
The Milano Fall Design Week seemed to be an ideal opportunity to create a veritable solo exhibition of Thomas Berra focussing on the work 'Franco and Renata', the result of an active collaboration between design and art.
Thomas Berra's artistic work expresses itself in more than one language. Never becoming analytical, Berra's investigations into shape and colour translate into images and marks more his  dialogue with the 'masters' or with works that particularly affected and stimulated him. The pictorial gesture combines with the relationship with space, straining to fill it, to assert the power of the dialogue between shapes, volumes, surfaces and marks. The artist himself claims to 'plunge' into colour; his search leading him to be completely under its power, such as happened with recent works related to green and nature. In parallel there are the artist's experimentations relating to past experiences, the retrieval of partly-forgotten popular media, such as the photo-novel.
'Franco and Renata' attempts to reunite these different souls by exhibiting a large painting, the original photo-novel drawings and a great site-specific environmental piece of work around the kiosk.
Exhibition in collaboration with Pastificio Cerere Foundation, Rome.
With the patronage of the Municipality of Milan.